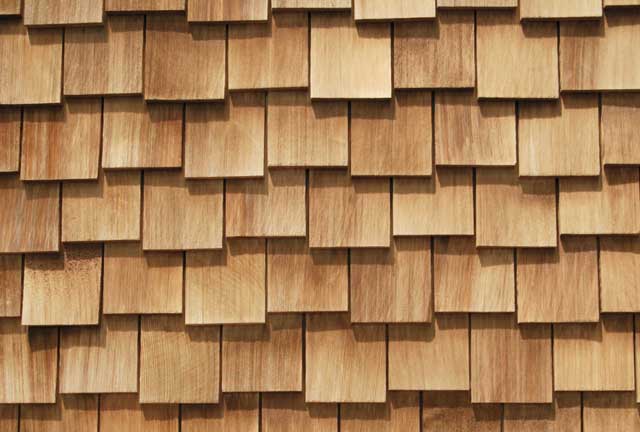 We specialize in Old World style wood shakes and/or wood shingle roofs. We do Thatching and other unusual roofs. We can design patterns to your choice, from letters, moons, sun, whatever you would like. We can also blend new shingles into your older wood roof. See our photos.
The wood roofs are unfortunately slowly going away, which is completely
understandable because of the fire danger. It's becoming a lost art. There are only a few of us left. We will try to keep some of our Early American History alive. The wood shingle roof is one of the longest lasting roofs you can buy. I have seen roofs that have lasted 60-80 years, with proper care.
ARE YOU CRAZY?!
I know what you're thinking, after the fires we've had in Reno. Unfortunately, no house is completely safe from burning down, whether it has a wood, tile, metal, or composite roof on it. Nothing is 100% full proof. But for you few discriminating owners who have a Log Cabin, English Cottage, or Early American style home, and want to have a beautiful wood roof or siding, we can roof it! We can fix it!
We also offer a wide variety of composition roofing products that carry a Class (A) fire rating.
To be honest, most of the work we do is compositions shingles, and we love those roofs, too. Today, there are shingles that imitate the look of a wood roof. But I still love the smell and look of a new shake or wood shingle roof. If you had worked with them, known the smell when you make a fresh cut into the cedar, you would understand that Ahhhhh moment.
Whatever type of roof you desire, we can take care of it for you–we do it all. We will roof anything from your doghouse to your mansion. We are a full service roofing contractor. We aren't afraid to do roofs other than shingles, like a lot of our competitors. We are quite diverse and we love a challenge.
Thanks,
David
775-322-7003